User can select and preview DXF/DWG files and batch load them, many repetitive operations are reduced.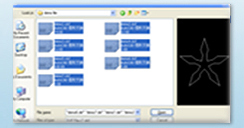 Set Part Properties Conveniently
User can setup Part Properties by double clicking, such as Part Count ,Nest Priority , and Rotate Angle.
The system provides detailed nest result, including Material Utilization, Nest Time Consumed, Nest Statistics, Sheet Preview etc.